Hello loves,
Earlier this week, I made a post to see  who was the favorite friend- Taylor Swift or Karlie Kloss- and today I just wanted to share who I think won the challenges.
Who does award shows better? Karlie or Taylor?
Winner: Taylor Swift-sorry Karlie, but Taylor can pull off just about any look under the sun and look incredibly stunning!
Who rocked the Victoria's Secret Fashion Show? Taylor or Karlie?
Winner: Taylor Swift-Tay Tay totally shocked us at the VS Fashow Show. Her performance was excellent and she looked like she was the angel of the night!
Who works harder at the gym? Karlie or Taylor?
Winner: Karlie Kloss-Sorry Taylor, meanwhile you spend the majority of the time getting ready for your post-gym appearance, Karlie is going hard at her workout!
How had the better haircut? Taylor or Karlie?
Winner: Taylor-Once again, Taylor shocked us with this new haircut. She looked cute and like a total popstar queen.
Who wears the better makeup? Karlie or Taylor?
Winner: Taylor-This was a tough one because both ladies have incredible makup artists and looks. However, my girl, Tay Tay's signature red lips and rosy cheeks (:P) and winged eyeliner never fail.
Who has the better street style? Taylor or Karlie?
Winner: Taylor– this one was a tough one. I was going to give it to Karlie but Taylor has a classic signature look that she rocks every single time. Her crop tops, high wasted, tight, little skirts paired with those incredibly high heels never fail. I mean seriously, when does this girl ever look bad?
Note to self: make a thinspo post dedicated just to Taylor's street style.
How had more bad blood? Karlie or Taylor?
Winner: Knockout a.k.a Karlie. Karlie looks like she can totally knock out Taylor Swift with absolutely no problem. This girl is 6'1 ft tall and is incredibly fit. She looks intimidating!
No one is messing with Bad Blood Karlie, that's for sure.
Vogue-Who did it better? Taylor or Karlie?
Winner: Karlie-She has the most stunning look ever! She's such a beautiful photogenetic model.
Who's the better baker? Karlie or Taylor?
Winner: Karlie and Taylor. Sorry ladies, I couldn't choose. Karlie makes healthy cookies, actually eats her cookies, and even has her own line of cookies. However, Taylor is extremely generous and loves to bake cookies for everyone but we all know she uses old-school ingredients and does not ever eat her own cookies.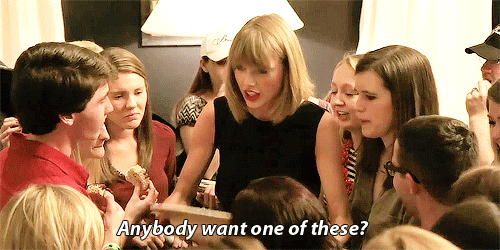 Who makes the better thinspo?
TAYLOR!!!!!!!!!!!!!!